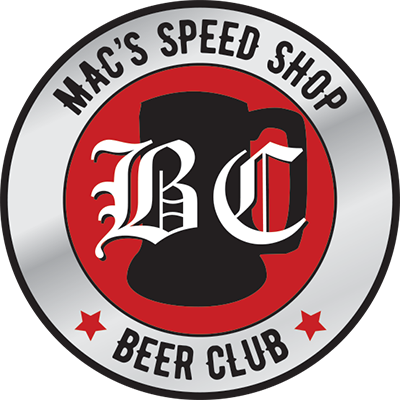 JOIN BEER CLUB.
UNLESS YOU HATE BEER.
THEN DON'T JOIN.
Here at Mac's Speed Shop we believe that our guests should be rewarded for their love and appreciation of all things craft beer. Our Beer Club (BC) members receive exclusive notifications of new taps, special offers, rare and exclusive brews, tasting events and so much more.
Membership is simple. Stop by any of our Mac's locations and sign up for a BC Card, register your card with your name and email address, have a beer and start earning rewards. With more beers than days in the year, earning points is a no brainer.
1

points

2

points

3

points

6

points
Sign Up

10 bonus points + Koozie

75

points

Pint Glass

150

points

T-Shirt

300

points

Mug + $5 Gift Card

450

points

Bottle Opener W/ Flashlight + Leather Coaster

675

points

Mechanic Shirt + Patch

900

points

Portable Phone Charger + $10 Gift Card

1350

points

hat + Mac's sauce & Rub pack

1800

points

aluminum growler

2400

points

jacket + mac's $25 gift card (dinner for two)

3000

points

personalized gas cap plaque + keg-a-que charcoal grill or frio retro combo cooler

3000+

points

We will credit your account $50 for every 500 points earned after 3,000. Spend it on all purchases at Mac's!
Download Prize Sheet
Rules & Regulations

Members must be 21 or older to join

only one bc card per check

all beer purchases receive points, but we encourage our members to try new and unique beers so you'll get more points for craft beers

mac's reserves the right to limit the amount our guests drink while in store. please be responsible and always have a designated driver
frequently asked questions

How do i join mac's beer club?

Joining is simple and free. Visit one of our locations and tell your bartender or server you want to join the Beer Club. They will get you signed up for a BC card and you can start earning points immediately.

What do i do once i've received my BC Card?

Show it to your server to collect points and visit us online at any time to check your points balance.

Can I see a list of beers I've purchased?

Yes. Once you login to your beer club account, you will see a summary of your points, the next level you are approaching, and a list of your beers. To view your beer list, click the "+" next to Items.

How do I receive my BC rewards?

Points are tabulated monthly so your rewards will be redeemable in a timely manner. We strive to provide you with a unique experience and our rewards reflect this through customization. All rewards will available for pickup at your local Mac's and shouldn't take longer than 2-4 weeks from the time you hit a prize level.

I received an error when entering my card number for the first time, what do I do?

Your card may have not been setup properly but no sweat. If this happens shoot us an email at beerclub@macspeedshop.com and we can help make sure your account is setup properly and you get credit for your purchase

I see a discrepancy in the amount of points that I have on my profile, why is this?

This could be for multiple reasons. If you feel like you should have more points, please let us know. We want you to be rewarded for your purchases. Drop us a line at beerclub@macspeedshop.com and we will get it sorted. Be sure to include any receipts or information about your order so we make sure to award you the proper points.

I misplaced my card, how do I get another one?

If you have lost or misplaced your card, no worries. One of the best things about BC is that as long as you have set up your profile with your name, email and phone number, then we can always look you up in our system and you can still earn your points. If you would prefer to carry a card, then stop by any of our locations and we will replace it immediately

I'm a previousu BC member and when I try to register my card I receive an error stating "You are already registered..."?

For most of our previous BC members, we have already collected your information from our old loyalty system. If there was an email in your old profile then it can cause our new system to think your account was already setup. If you remember the email that you would have signed up with, then you can simply click the forgot password link. If you don't' remember then no biggie. Shoot us over an email at beerclub@macspeedshop.com and we'll get it sorted.

If I'm a beer club member, do my current points roll over?

Yes. Your current points will be multiplied by two to correlate with our new points system.

Do I get retroactive prizes from previous bc program?

No. All prizes will be based off of points as of our launch date of May 10, 2018. We understand the rollover process might be annoying, but the end result will be awesome – we promise. If you have any concerns about missed prizes, email us at beerclub@macspeedshop.com and we'll make sure you we take care of you.
Login