OUR BEGINNINGS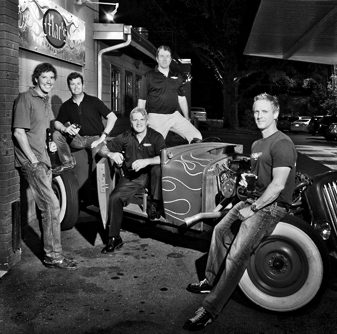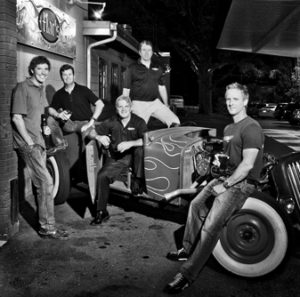 Mac's Speed Shop was conceptualized by founders Wynn Davis and Hall Johnston. If we're being honest, the two guys knew nothing about running a restaurant but knew they loved BBQ, beer and bikes…so they bought the site of a run-down motor shop, brought in some friends, hired people to run it and opened the doors to a great adventure on May 5th, 2005 in Charlotte, NC.
17 years & 9 locations later…
---

WHITE COLLAR, BLUE COLLAR OR NO COLLAR…
There are barbecue joints, and then there's Mac's Speed Shop. We've blended BBQ, BEER and BIKES to create a truly unique experience. We have live music, events and a dog-friendly patio so you can bring the whole family. Whether you're riding a Harley or driving a minivan, you'll feel right at home.
Everyone is welcome at Mac's as a guest or a team member.
---
THE FOOD & BEER…
Everything is made from scratch daily in the Mac's kitchen, including BBQ sauces and dressings. We like to elevate comfort-food favorites, like Mac 'n' cheese and brisket chili. We will always have daily drink specials including local craft beer, wine and an extensive liquor menu specializing in cocktails, bourbon and scotch whisky so you can make pour decisions. Over 50 draft beers and 100 bottles & cans updated daily to keep options fresh.
Accolades
1st place sauce
2nd place whole hog
5th place whole hog
8th place whole hog

3rd place pork shoulder
3rd pace pork ribs
4th place whole hog
4th place pork ribs
5th place whole hog

Reserve Champion Whole hog
1st place chicken
3rd place whole hog
5th place pork

Reserve champion whole hog
Grand champion pitmaster division
1st place chicken
1st place pork butt
2nd place whole hog

Grand Champion
1st place chicken
2nd place pork
3rd place ribs

1st place chicken
2nd place chicken
10th place chicken

3rd place grand champion
3rd place brisket

Top 3 Best BBQ Joints in Greensboro

2021 Experts' Choice Award
Top 2% of Restaurants in Charlotte